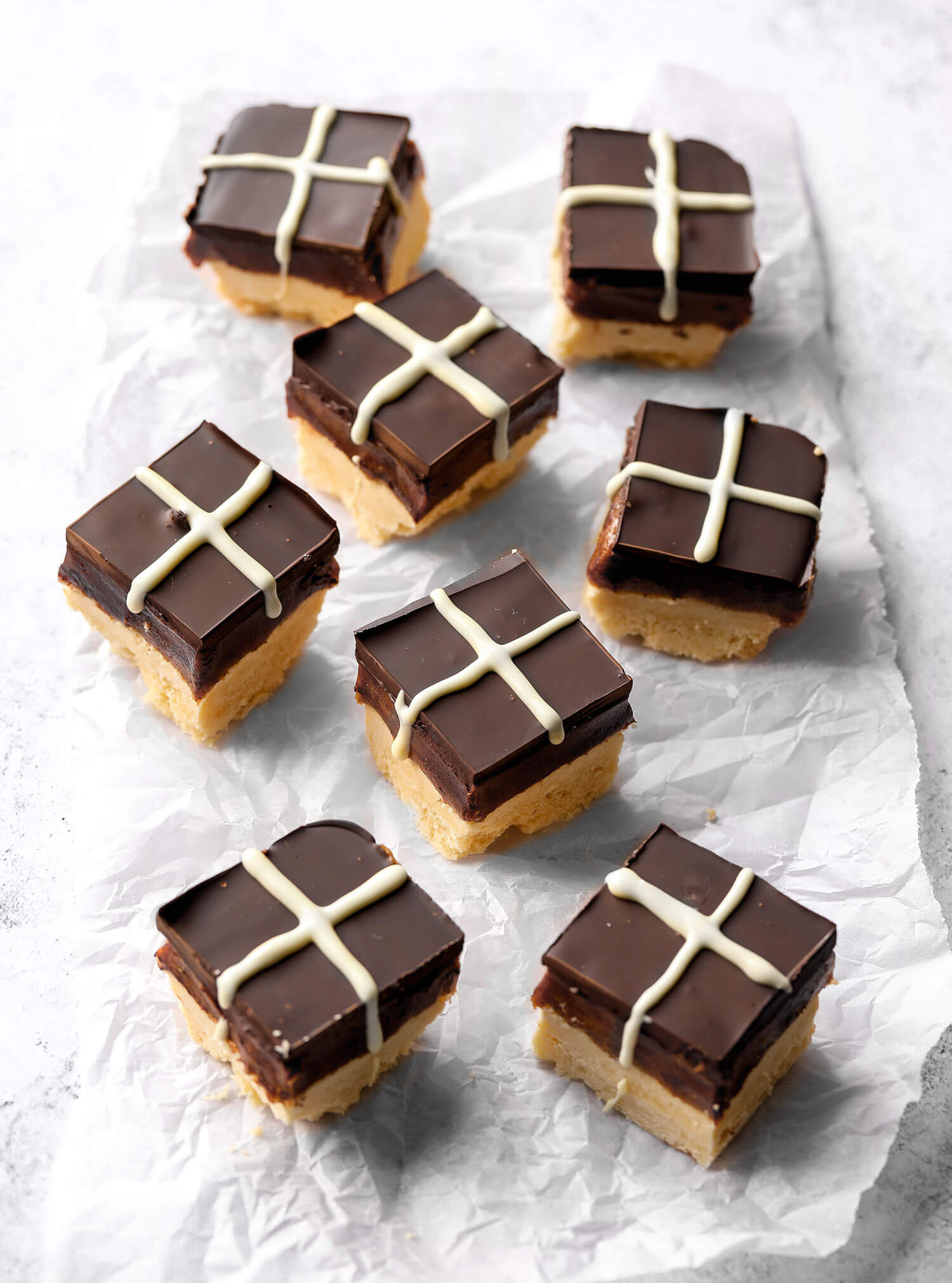 We all need a treat this Easter after the last 12 months we've all had (stills can't believe it's been a whole year since the first lockdown!). And now that we can meet people outdoors again, it would be lovely to start sharing food with others. This Hot Cross Millionaire's Shortbread traybake is the perfect crowd pleaser that everyone can enjoy this Bank Holiday.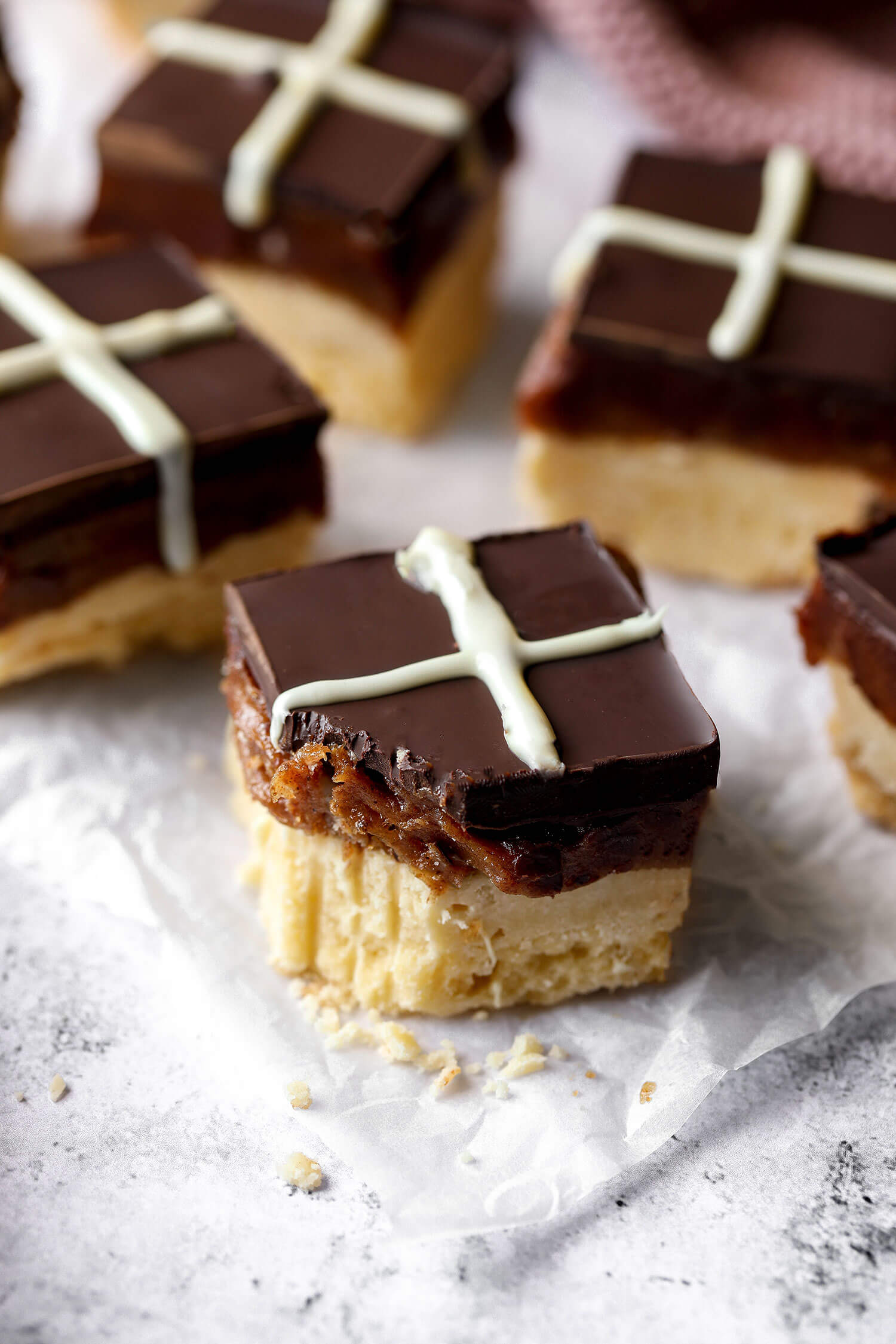 Made up of a crumbly shortbread base, a healthier date caramel centre and a chocolate topping. What's not to love? I added the warming flavours of a hot cross bun, allspice and cinnamon, to make it taste more like a hot cross bun. You can also add some sultanas to the caramel centre to add more of a hot cross bun hint, but I thought the dates in the caramel did that job for me.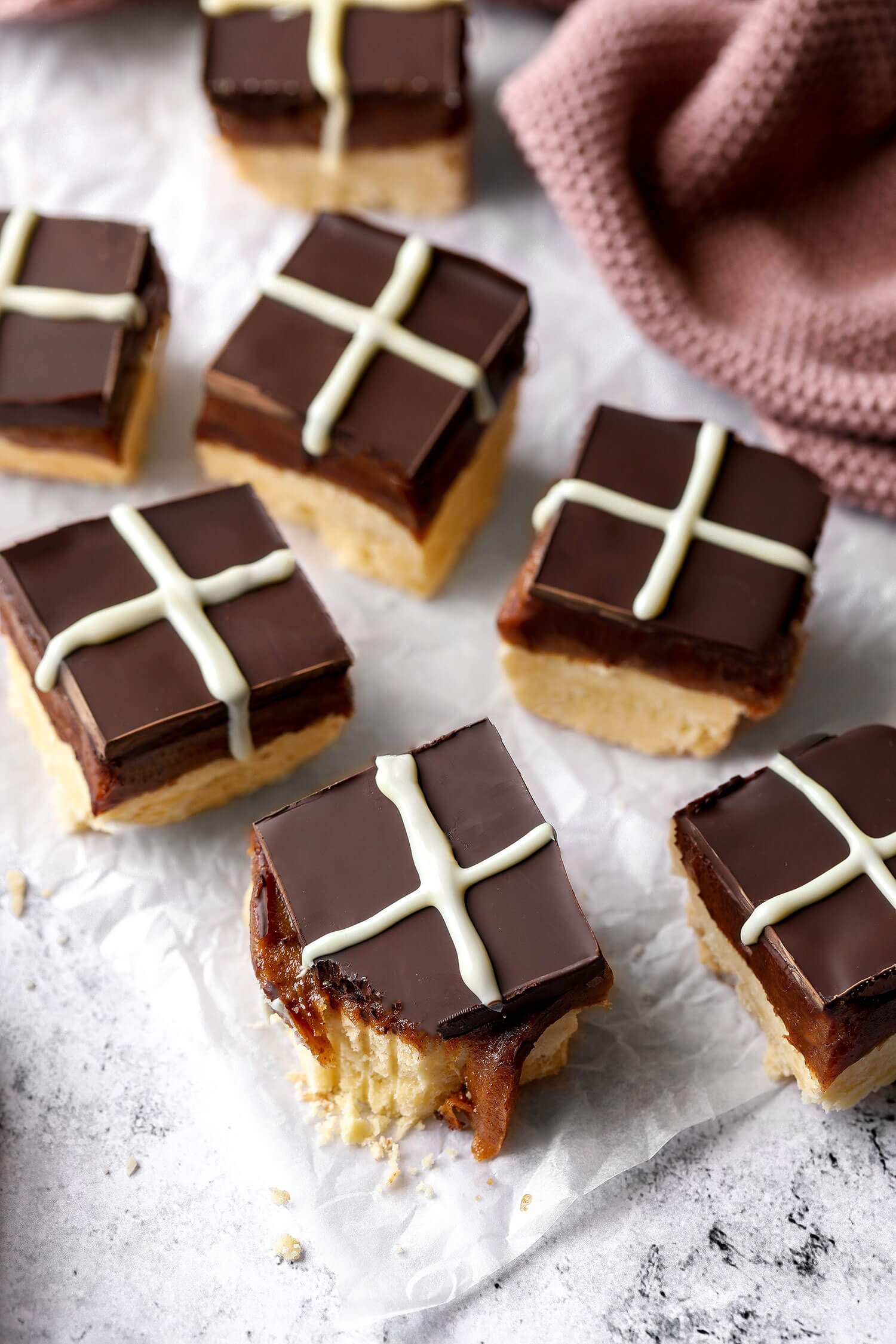 This recipe is really easy to make. You do need a food processor to make the caramel centre, but apart from that all you need is a bowl and spatula.
These hot cross millionaire's shortbread slices are completely vegan and gluten-free. I used FREEE gluten-free plain white flour to make the basic shortbread base, and the filling is made up of dates, nut butter, a bit of milk to help it blend into a paste and a little bit of coconut oil to help it set.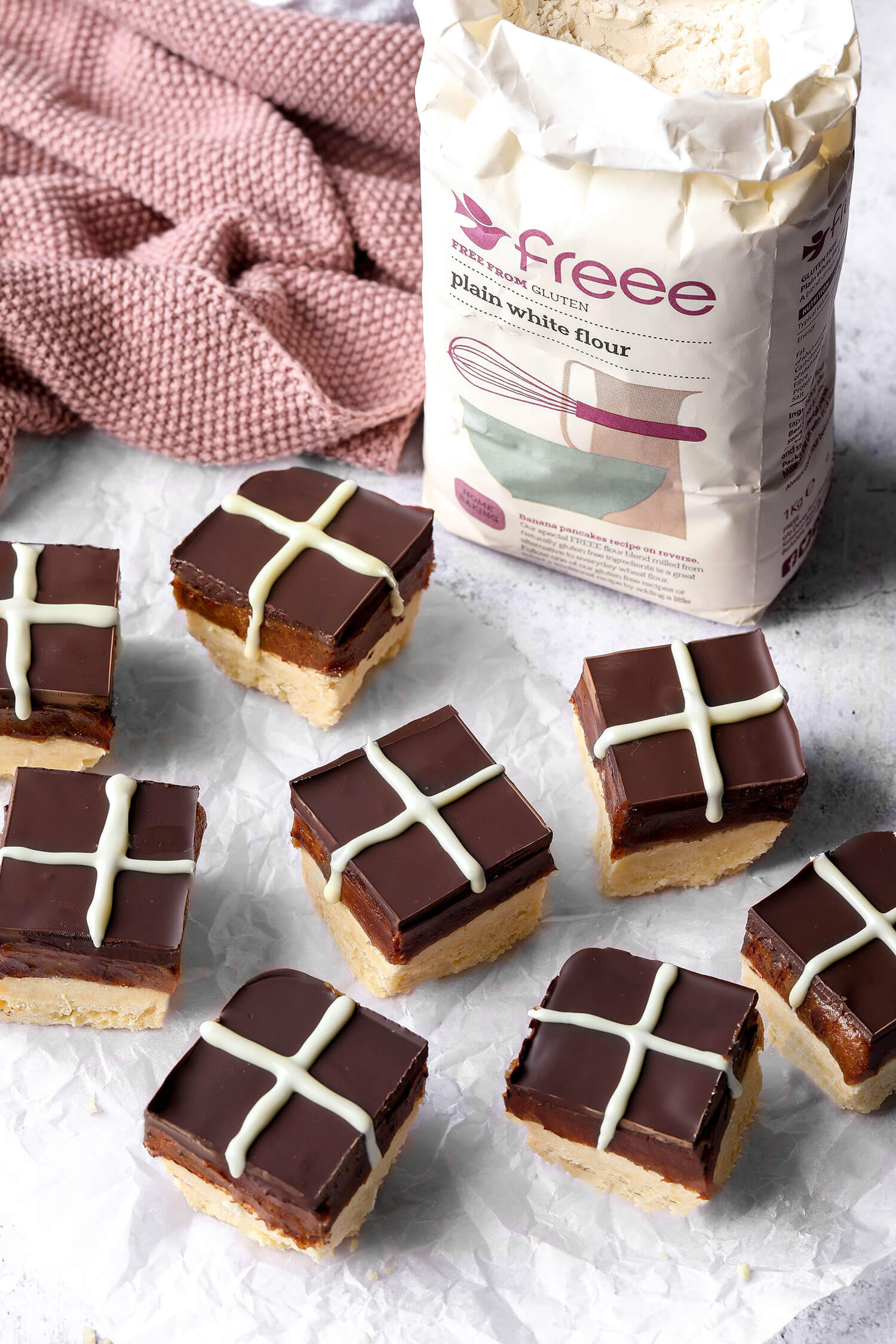 To make the crosses, I simply melted some white chocolate and used a piping bag to create that perfect cross. Alternatively you can drizzle some melted white chocolate on top, although I do feel the cross does add a little something special to these hot cross inspired millionaire's shortbread!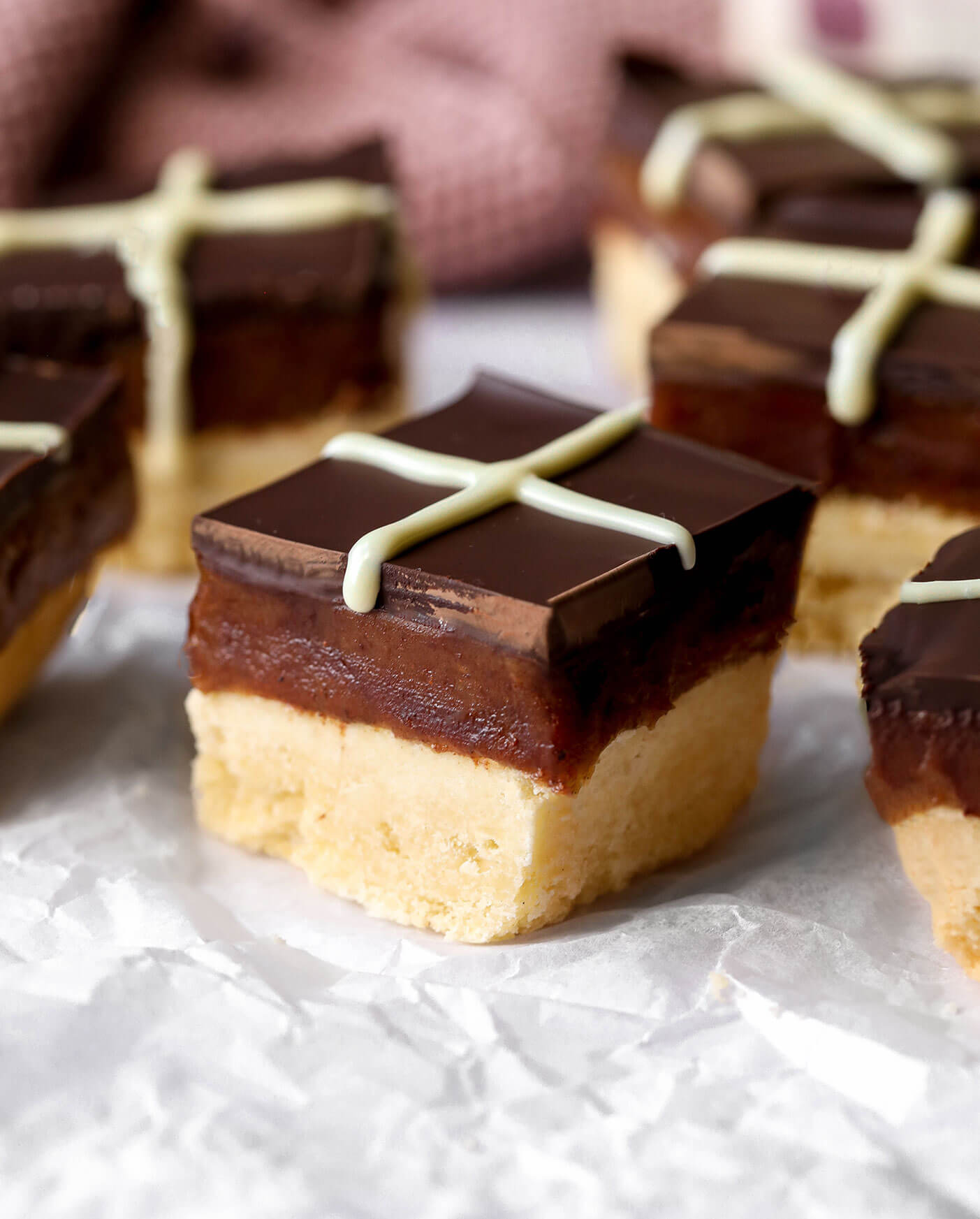 Hot Cross Millionaire's Shortbread
Makes – 8
Ingredients
For the shortbread base
150g gluten-free flour (I used FREEE plain white flour)
100g chilled butter or coconut oil
25g caster sugar
Pinch of salt
For the caramel filling
160g soft dates (I used Medjool dates)
2 tbsp nut butter (I used almond butter)
2 tbsp plant milk of choice
4 tbsp coconut oil, melted
1 tsp cinnamon
1/2 tsp all spice
pinch of salt
For the chocolate topping
125g dark chocolate
1 tbsp coconut oil
50g white chocolate
Method
Preheat your oven to 180C/160fan
Place the gluten-free flour, salt and chilled butter in a food processor and pulse until combined, then add the sugar. Pulse again until you have a smooth dough.
Transfer into a loaf tin lined with baking paper (I used a 22×12 cm loaf tin) and press down to create an even base. Prick with a fork and bake for 25 minutes. Leave to cool while you prepare the caramel layer.
Add all the caramel layer ingredients in a food processor and blend until you have a smooth mixture, then spread over the base.
Break the dark chocolate up into a heat-proof bowl and add 1 tbsp of coconut oil. Melt in the microwave (check on it every few seconds to make sure if doesn't burn).
Pour the chocolate over the caramel layer and smooth over with a spoon or spatula.
Place in the fridge for around 15 minutes or until the chocolate has set.
Pour some hot water over the blade of a sharp knife, then gently slice into 8 squares (this will make it easier to slice through the chocolate topping and avoid it cracking).
Melt the white chocolate in the microwave, then transfer into a piping bag with a small nozzle to create the crosses. Alternatively you can drizzle the white chocolate on top using a spoon.
Enjoy!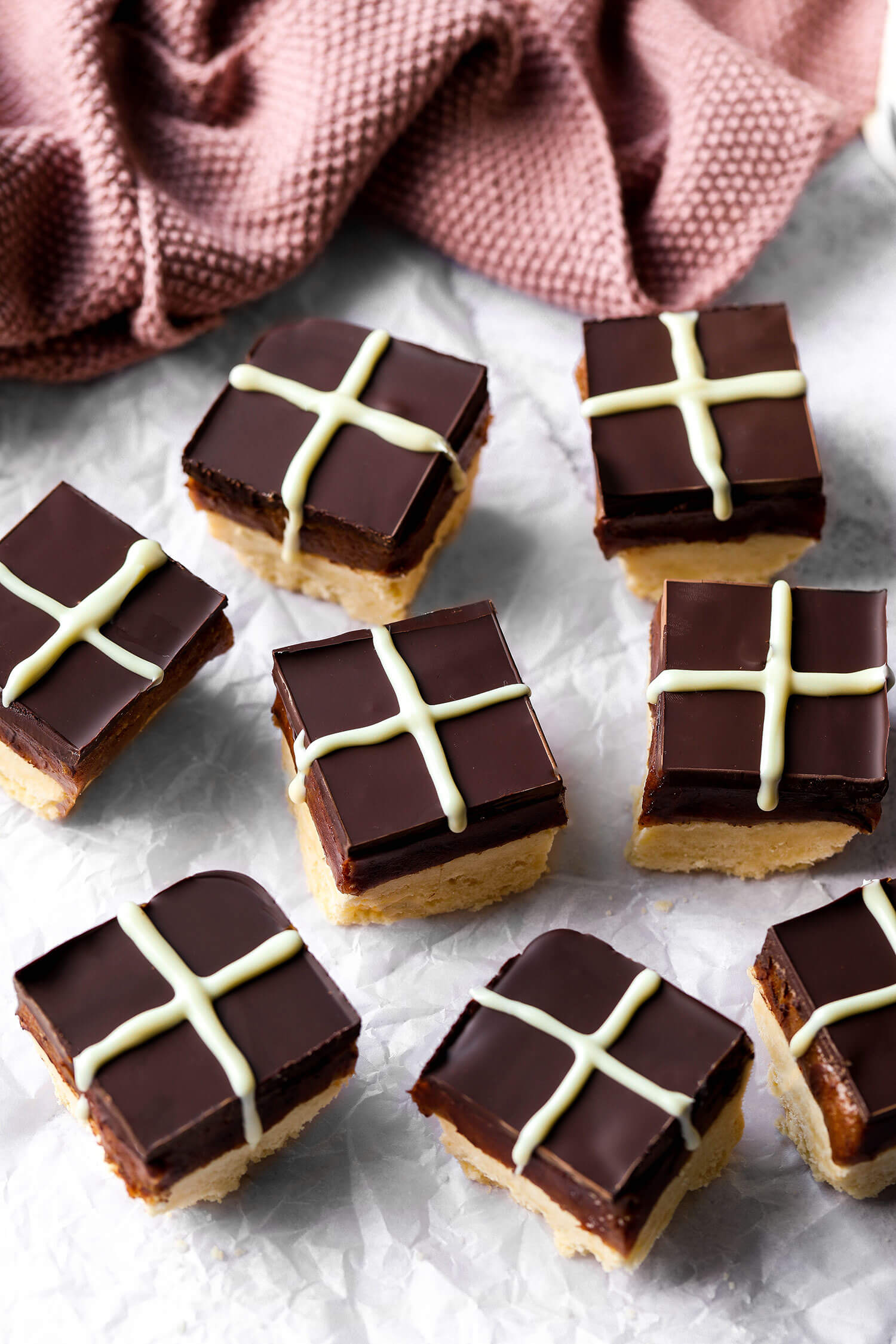 Share This Post